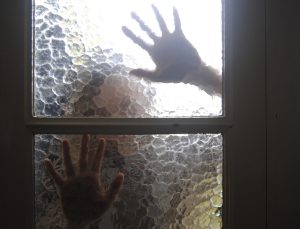 Body Pressure (1974)
Body Pressure
Press as much of the front surface of
your body (palms in or out, left or right cheek)
against the wall as possible.
Press very hard and concentrate.
From an image of yourself (suppose you
had just stepped forward) on the
opposite side of the wall pressing
back against the wall very hard.
Press very hard and concentrate on the image pressing very hard
(the image of pressing very hard)
press your front surface and back surface
toward each other and begin to ignore or
block the thickness of the wall. (remove
the wall)
Think how various parts of your body
press against the wall; which parts
touch and which do not.
Consider the parts of your back which
press against the wall; press hard and
feel how the front and back of your
body press together.
Concentrate on the tension in the muscles,
pain where bones meet, fleshy deformations that occur under pressure; consider
body hair, perspiration, odors (smells).
This may be a very erotic exercise.
⁄
About the artist
Bruce Nauman was born in 1941 in Fort Wayne, Indiana. Since the 1960s, Bruce Nauman's radical interdisciplinary approach has challenged conventions while producing new methodologies for creating art and meaning. His rigorous, ascetic engagement with the existential dichotomies of life/death, love/hate, pleasure/pain has embraced performance, video, holography, installation, sculpture, and drawing. From the attitudes and forms of his Post–Minimalist and Conceptual work to his most recent sound installations, persistent themes and ideas appear: the use of the body as material; the relationship between image and language, art and viewer; and the generative interaction of positive and negative space.
This information was extracted from: http://www.gagosian.com/artists/bruce-nauman